Hello sweet reader!
I want to talk with you today about hospitality.
Did you know that hospitality is something we are called upon to do in Scripture?
Take a look:
Contribute to the needs of the saints and seek to show hospitality.

She opens her hand to the poor and reaches out her hands to the needy.
Proverbs 31:20

ESV
Show hospitality to one another without grumbling.
1 Peter 4:9 ESV
Never before have we had so many resources for entertaining and making our homes welcoming and warm to visitors (read: Pinterest.) But are we using all our cute little pins in our real lives?
Are we bringing people into our homes to share meals with them, to talk and form relationships?
Hospitality, like so many other good things God has called us to do, benefits not only the person you are serving; it benefits you!
Showing hospitality makes us vulnerable. For many of us, our home is a big part of who we are. When we bring people into our homes, we're letting them see parts of us that they would never experience in church or at the football games.
How wonderful that we can open ourselves to others and show that we are human! Think about what a living example of God's mercy and grace you can be when others truly know you-- your thoughts, your mistakes, what we can so easily hide in public. What better way to begin to be authentic and stripped away with one another than by being in one another's homes, where we are our most genuine selves?
Invite someone into your home. Begin to form your community. Surround yourself with others and let them see your true self... the one God is molding you to be.
Grab an idea here:
1.
Host a dinner party.
Tried & true method that still works! Start small & serve frozen pizza if you want... the point is the fellowship.
2.
Offer to hold a baby shower or birthday party at your home.
If you know of someone who's looking for a spot to have a small event, offer your home. You'll get work with the hostess, the guest of honor, and all the guests, too! Look at all those opportunities to connect and love on folks!
3.
Be the small group home.
If you are part of a small group, wonderful! Be the place where the group gathers, or be the backup place. Bonus: you'll be more prepared for group.
4.
Be the after-school home.
If you have school-age children, make it an option for them to invite friends over. Volunteer to be the home that provides supervision for an hour or so, until another Mom can get off work.
5.
Babysit for another couple.
Offer to babysit for another couple while they go out. You are ministering to them, as well as their little ones. If they offer to return the favor, that's a bonus.
6.
Organize a progressive meal.
If you haven't done one of these, you're missing out! Recruit some friends and neighbors. Each family is responsible for one portion of the meal, i.e., salad, dessert, etc. The whole group moves from home to home enjoying the feast!
7.
Host your family.
Make it a priority to have extended family to your home for a meal or a weekend. Even if they live next door, you'll find that talks in the wee hours can be so fulfilling.
8.
Clean someone else's home.
Know someone who's suffering with an injury or illness? Offer to do some light housework for them. Take care of their home as you would your own.
9.
Be at home.
Because we live in a parsonage, we get a lot of knocks on the door. We meet a lot of strangers who need help. This may not ever happen to you, but if it does remember this:
Do not neglect to show hospitality to strangers, for thereby some have entertained angels unawares.
Hebrews 13:2
ESV
Have you entertained angels? In what ways do you open your home to others and show hospitality? Leave your comments below.
Shared at
Christian Mommy Blogger
and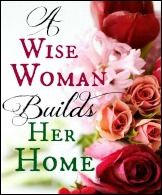 A Wise Woman Builds Her Home